Everything you want is just outside your comfort zone." — Robert Allen
Mr. Allen is spot on.  There can be no growth without some discomfort, fatigue or uncertainty.
To become "bigger" in your chosen vocation,  you must exceed the confines of your current boundaries. Pushing up and out. Both inside and out.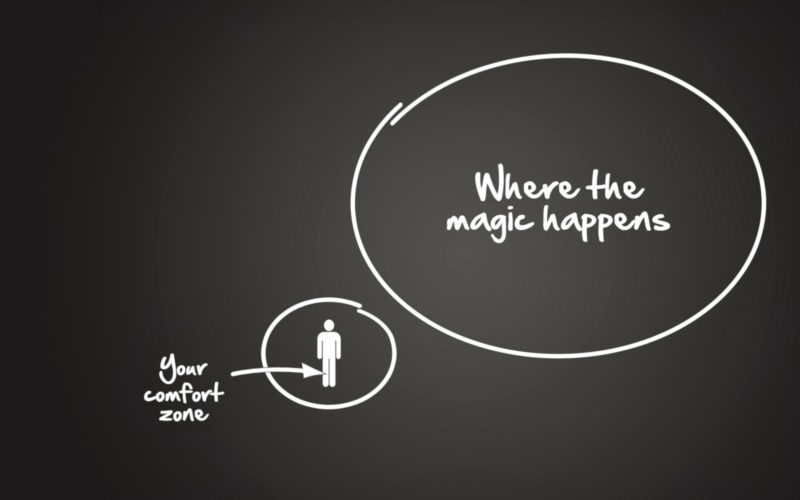 If it's athletics, commit to the work that enhances your physical strength, increases your speed, agility and raises your stamina level. Accept coaching and criticism. Agree to be built from the bottom up if need be.  Speaking from my limited experience, that do bring some hurt.
Perhaps it is a superlative academic or technical path you seek.  Then it is mental muscles you need build. To develop the strength, instill the habits and train the stamina to  nourish your goals toward that realm. "Comfortless" territory not for the faint of heart. But essential to opening the entry doors of opportunity into your life's vocation.
What of becoming a better person?  One that is built to serve? If that is your purpose, then you have to work at losing your "self".  Abandoning ego.  Making it about them.  Setting aside the things you want, need or dream of so that those around you can become what they are intended to be. No comfort in embracing that level of sacrifice and "leaving it all on the field".
Whether the challenge is muscular soreness, mental exhaustion or the uncertainty that is bound to accompany losing "self", each venture of this magnitude will be rich in adversity.
And all reside exclusively just outside of your comfort zone.
Like so many other things in life, this too comes down to choice.
Remain confined.
Or break out.
And grow.